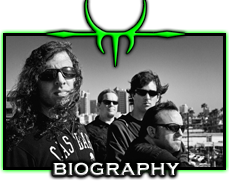 Daemos write metallic symphonies for the apocalypse. Their songs destroy with a driven musical violence honed through precise technical execution. The band's EP Surfacing blends elements of classic Bay Area thrash, death metal and melodic metal into a chaotic concoction of pure unbridled sonic rage. Eric Nunes's baritone riffs bludgeon with a bone-snapping groove. Kevin Wood's destructive drumming and Matan Chaffee's tight bass hold down the rhythm, while Victor Baddour's tortured vocals and razor sharp riffs captivate. Daemos play a volatile, violent style of heavy music that breaks boundaries.
In 1997, Daemos burst onto the San Diego scene. The band independently released one EP entitled Dying God in 1998 and followed it up with the full length Facing Down in 2002. Because of a brutally tight live show, they quickly garnered a legion of fans. They have opened shows regionally for everyone from Judas Priest, Testament and Death to Strapping Young Lad, The Haunted and In Flames, August 2007 will see them slaughter crowds on a national headline tour. Over the course of the year, Daemos will also release four separate EPs, featuring three songs each. Surface is the first installment in this series and a prelude of the chaos to come. Victor comments, "With the digital age, it is better to release songs on a smaller scale. Releasing music this way gives people something to look forward to with less waiting time in between. It's also a different way of doing things, and we wanted to stand out."
More importantly, the songs make the band stand out. Their sound is forged by a standard guitar, a bass and a baritone guitar, a rare combination for extreme metal. About the use of the baritone, Victor explains, "We have the guitar tuned as the high end, the baritone as the middle and the bass as the low end. So we have everything locked together in this whole wall of sound." As a result, songs like "Iodine" and "Shattering" pack an overpowering punch with hard-hitting verses that morph into melodic, haunting bridges. However, each individual element stands out. "I hear everyone's personalities come out in their parts. Eric and I are the chief songwriters in the band, and we put together the skeletal structure for the songs. Then each member adds his own piece, and the song becomes ours. We also try to layer vocals differently, emphasizing off-notes and creating a distinct vibe." Each member also sings, often simultaneously harmonizing. On some tracks Eric even provides the main vocal line with backups coming from the rest of the band. Due to these layers of sound, Daemos gives listeners something more to delve into, from polyrhythmic verses to strange, yet hypnotic harmonies.
Lyrically, Victor weaves a tapestry of pain and real life experience. His lyrics convey a pure honesty, transcending common metal themes. "I'm just putting my feelings out there. This is who I am, and this is how I feel. What helped me in my life was music. In a way, I'm hoping our music will help other kids get through the troubles in their life and possibly inspire them to be musicians." Ultimately, inspiration remains integral to Daemos. Victor shows, "We don't want to write just one certain style of song. We want to do whatever we can to make our songs as interesting and as distinct as possible. We have a message that we want to put out and we want to keep that intact. We'll do whatever we want; be brutal as fuck or extremely melodic, but you'll know this is Daemos." This is the first chapter for a band that will leave a tangible mark on metal. – Rick Florino